OUR TYPE OF SHIPMENTS
COLLECTION AND DELIVERY OF SUITCASES
AIRPORT/PORT
Don't cart along your suitcases, we will take them to where you are staying
A special collection requires special attention (a specific time, for example) and must be done at a specific address such as: airports, at a port or train station.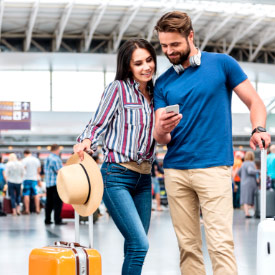 How does the transport service work?
This service consists in sending your suitcases straight to the airport on the same day of your flight or to the luggage collection the day you land at the airport, or arrive at the port or train station, and we take it to the destination you requested.
The airport or port pick-up service is an additional service and is not included in the price of standard shipments.
In the case of a collection or delivery at the airport, port or train station, an authorized and previously identified person will wait for you to collect your luggage and send it to the destination that you specified. So it is a guaranteed collection and delivery service.