TRAVEL WITH SINMALETAS STEP BY STEP
HOW TO FILL, SEND AND BUY STORAGE BOXES
We will guide you step by step so that your luggage arrives perfectly at the indicated destination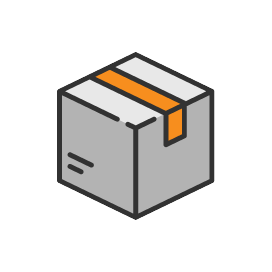 Cardboard boxes vs plastic boxes
Cardboard boxes are resistant and flexible (if they are in good conditions), so although they are piled up at several warehouses during the trip, the box protects its content.
We don't accept plastic or wood boxes as they can easily break out. Just cardboard boxes are permitted.
WHERE YOU CAN FIND THEM
You can buy the packaging when placing the order with us, and it will be delivered to the address provided in 24-48 working hours (to Spain) or in 3-4 working days (to Europe).
Otherwise you can buy at the shops on your city (supermarkets, shops), but be sure that the boxes are in perfect conditions and without any dangerous product (bleach, medicines) labels.
We suggest you to hire an additional insurance in case of that you luggage is high valued.
How must be the boxes (dimensions)
Here we show you the measurements of our boxes , although you can use any packaging box in optimum conditions, as long as the measurements are "coherent" with their weight.
The maximum size is 320 cm length and combined perimeter being the length (A) of the longest side of a package. The following formula must be applied in order to calculate the length and perimeter of the parcel:
length A + (width C x 2) + ( height B x 2) = less than 320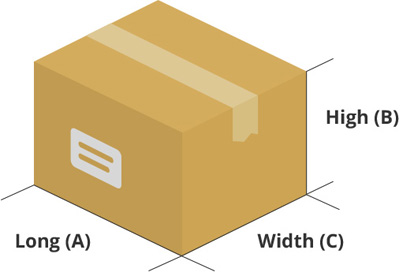 If you aren't sure about your boxes, tell us its dimensionsand we will confirm if they are correct or if it is better to look for another one.
We offer you the option of buying the boxes
If you want to send your belongings but you don't have suitcases or boxes, Sinmaletas.com gives you the possibility of buying cardboard boxes and sending them to you.
When you choose a product in the checkout process that needs to be packed, we will give you the option to add boxes to your order. It is important that you take into account that the boxes must be received before the date your luggage is picked up so that you have time to fill and pack them properly
Delivery at the Peninsula 24h/48h working hours.
Delivery to Balearic Islands 48h/72h working hours.
International delivery 3-4 working days (depending on destination).
10 Kg

46 cm x 30 cm x 28 cm

3.5€ + shipping cost

20 Kg

61 cm x 38 cm x 41 cm

3.9€ + shipping cost

30 Kg

77 cm x 40 cm x 39 cm

5€ + shipping cost

Caja de bicicleta

140 cm x 20 cm x 75 cm

16.34€ + shipping cost
How to fill packing boxes
You can fill the boxes with your clothes, books, etc. but always be sure that there are no empty spaces inside the boxes. In this case, use bubble wrap, polystyrene peanuts or foam protections to fix the content inside the boxes. These empty holes inside the box are the parts that can be deformed when they are piled up. So it is very important to fill them properly.
What can or cannot be sent
Both in step 1 of the order and in point 8 of our Terms and Conditions it is established that there are certain materials that cannot be sent or must be sent with additional insurance. If you have any questions, check the list in case you have any doubt.
How to close the boxes
When the boxes are filled up, close them with big adhesive tape. Check that they are perfectly sealed up and reinforce its corners (it is the most vulnerable part of the box). Stick the labels (sent by us) on the biggest face of the box as in the image, and that's it! A good idea will be to put the label inside plastic covers to protect them.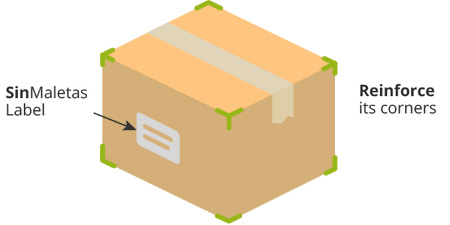 OTHER QUESTIONS
Are the boxes reusable?
It depends on its conditions, but usually you can reuse them. However we recommend to use new boxes, and if they are reused, check that they are in optimal condition and that do not have any label of previous shipments or dangerous content.
Can I ask Sinmaletas.com for packaging boxes after creating my order?
Sure, send an email to at.cliente@sinmaletas.com, we will inform you of the procedure and we will send them to you as soon as possible.