OUR TYPE OF SHIPMENTS
LUGGAGE TRANSPORT
FOR GROUPS
Enjoy your trip from the first day and don't worry about the luggage
If you need to send luggage for groups, don't worry, we transport the suitcases so that your trip is more comfortable.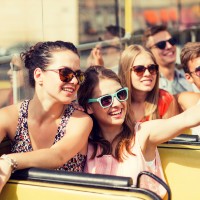 How does this service work?
The transport of luggage for groups consist in sending the suitcases of all the group members who are going to travel. We collect your luggage and send it to the destination you request.
Enjoy with your group and don't worry about the luggage!