TRAVEL WITH SINMALETAS STEP BY STEP
PREPARE YOUR LUGGAGE
HOW TO PREPARE YOUR SUITCASES
As you already know, your suitcases are going on a long trip and are going to pass through different warehouses. That is why we want to make sure that you protect your suitcases as best as possible to prevent any damage.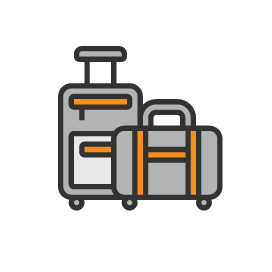 Why should I protect my suitcase in any way?
It is necessary because your suitcases are going to have a long trip depending on their destination and origin. They will pass through different warehouses and they will be handled by different authorised agents, that is why it is very important to protect them correctly in order to prevent breakages and scratches. Read more about how to protect my suitcases from possible scratches.
Depending on the type of shipment and its destination we will send you a free safety kit to the address you provide. It will arrive with a driver, so you will have to be available at home to receive it.
As set forth in point 2. User's Obligations in our terms and conditions: the user is obliged to correctly pack the goods in order to guarantee the safe transport and correct maintenance of its content Terms and Conditions.
How do the suitcases have to be?
The suitcases can be soft or hard, but they must be highly resistant to the weight and transport they are going to withstand. Pay special attention to the handle of your suitcase: this part is especially fragile, so it must remain inside the protective layer of the plastic wrap.
You can send sports satchels and duffles, whenever you pack them with plastic wrap and make sure the label sticks perfectly without it becoming detached. If your shipment has to be made with the safety kit, make sure it is placed properly and the identification labels are very visible, without the possibility of them falling or becoming detached.
How do I have to pack my suitcase?
Pack your suitcases with cling wrap and place the labels on so they won't come off. You will thereby protect them from possible damages during the shipment and we will ensure they are correctly identified. It is very important that the extendable handle of your suitcase is protected under the packaging (plastic wrap), so that it cannot extend, as it is the most fragile part of the suitcase.
STEP 1

Take a roll of cling wrap and tie a knot in the handle so that the packaging is securely attached

STEP 2

Wrap the entire suitcase with the cling wrap. Cover it with different layers so that it is well protected

STEP 3

Once the suitcase is completely lined, stick the identification label on top

STEP 4

Attach the identification label with strong tape by around the entire suitcase