TRAVEL WITH SINMALETAS STEP BY STEP
PREPARE YOUR LUGGAGE
HOW TO SEND BICYCLES
Are you moving out? Do you want to study abroad? Maybe you are thinking on going on a cycling route and you need to ship your bicycle anywhere, Sinmaletas makes it easy for you.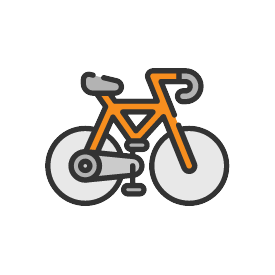 Do I need an additional insurance?
If the bicycle has a high value we recommend you hire it, however it is not necessary to do it. So if there is any incident during the shipment, the insurance will cover it. Look at our insurance section.
Do I need any special packaging?
The bicycle will only be sent if it is perfectly packed inside a box or a case for that purpose.
You can buy your bicycle's box while creating your order packing box and pay it as you pay your shipment. Its dimensions are: 140 cm x 20 cm x 75 cm.
You must disassemble the bicycle (pedals, handlebar, seat, chain, gears and front wheel) and wrap up every part. Use foam protections in order to assure that the bicycle parts do not suffer any damage.
Please, don't over charge this box because it's very big and difficult to manipulate. Although there will be empty spaces inside the box, it is not recommended to put other stuff, like other personal effects inside. When your bicycle is correctly packed and prepared to be shipped, print and stick the label that we will send to you and… Ready.
For the shipment of your bicycle it is important to take into account its packaging so that your sports equipment reach the destination in perfect condition. Next, you will see how to pack your sports equipment.
How to send bicycles using Sinmaletas?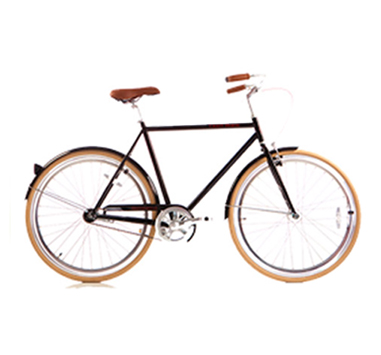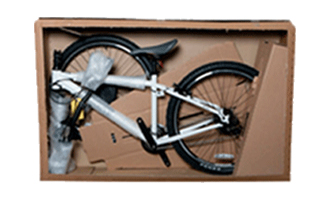 You must disassemble the bicycle and put it inside a box
COMPLETE YOUR PACKAGING
In order to prepare your bicycle cover it with bubble wrap
Wrap the package externally, this will prevent your labels from falling off
Reinforce the outer packaging to prevent its opening